For those lucky enough to be involved, Kiwi hunting is becoming a bucket list activity in many parts of Northland.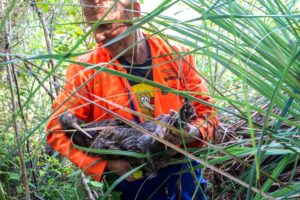 But the leaders of these expeditions won't be taking any bookings from trophy hunters.  It's within the local community where the hunter people come from. Local residents and in particular school pupils are asked to assist.
Armed with radio tracking receivers that look a bit like old school TV aerials with a pistol grip they set forth at irregular intervals into the hills where kiwi once lived out their natural 40 or 50 year life spans.
Back then, before we arrived, the kiwi were free to roam the bush and swampy bits between. Then came settler farmers who toiled with axe and hand saw to harvest the trees and followed with matchbox to clear the scrub. Further development arrived in the form of superphosphate fertiliser and foreign grass seeds raining from the skies.
A few of those original kiwi survived the loss of habitat from farming, the ravages of dogs, stoats and other predators and, in perhaps the most grossly symbolic cycle of all, the roller crusher.
Progress in Northland
In many parts of Northland's rugged hinterland progress is now headed the other way. Farming these difficult hills and isolated valleys provides a lesser return than subdividing for "lifestyle" blocks.
Forestry and the powerful rejuvenating force of naturally occurring Manuka nursery crops are repainting the landscape with purposeful green brush strokes.
Across this matrix of surviving bush gullies, regenerating hillsides, occasional horse paddocks and conspicuous roof lines there are more and more trap lines. Gradually the predator enemies of so many native bird species are being whittled away.
Trapping & Dog Control
Where trapping and dog control is judged effective captive bred and island reared kiwi are a key species being re-introduced to the landscape. And where the mainly volunteer organisations that organise much of the control work can afford it a number of the birds are equipped with tiny radio transmitters.
The wanderings of these monitored birds through the countryside are reported locally, often resulting in excited chatter and social media storms as they track from property to property.
Kicker, a North Island Brown kiwi, is one such bird. He was relocated from his island crèche in Whangarei Harbour to a coastal Pacific lifestyle at Tutukaka just before Christmas in 2016. His wanderings have been monitored ever since via one of these tiny radios attached to his leg.
On March 5 this year it was time for a health check and transmitter change – the batteries do run out and leg bands can be a problem.
Kicker, a North Island Brown Kiwi, having his radio tracking transmitter changed at Tawapou Farm, Tutukaka Coast, Northland. March 2018. Photo: Malcolm Pullman.
Tutukaka Landcare, TLC as it's happily known, got together a posse of local supporters, reinforced with four senior students from Ngunguru schools "earth ed" class, and led by NRC kiwi wrangler Pete Graham. It was a pleasure to photograph the Pied Piper like scene in the beautiful coastal environment of Tawapou farm where more than 90 percent of the Bowden family property is now protected under perpetual QEII covenant.